Intentional Vehicle-Wildlife Collisions
A blog exploring the difficult topic of intentional vehicle-wildlife collisions. How and why do people intentionally swerve their vehicles to hit animals?
While driving, I find it so sad when I come upon the body of a lifeless squirrel, turtle, opossum, or raccoon who was simply going about his or her daily business and made the fatal mistake of trying to cross a busy road. I find it even sadder that some of these animals are killed intentionally by drivers.
In this blog, I explore a difficult topic by examining the available research on intentional vehicle-wildlife collisions. How many people appear to intentionally swerve their vehicles to hit animals on the road? And does this form of sadism differ based on the species of animal? Let's take a closer look.
The Roadkill Experiment
A few years ago, I ran across a must-see YouTube video entitled "Roadkill Experiment" created by Mark Rober, an engineering student and curious scientist. The video is imaginative and surprisingly entertaining given the subject matter, yet reveals the dark side of human nature played out on the road. Explaining his motive, Mark said, "I read a long time ago that people will swerve more to hit turtles over snakes… as a firm believer in the scientific method, I decided to test this hypothesis."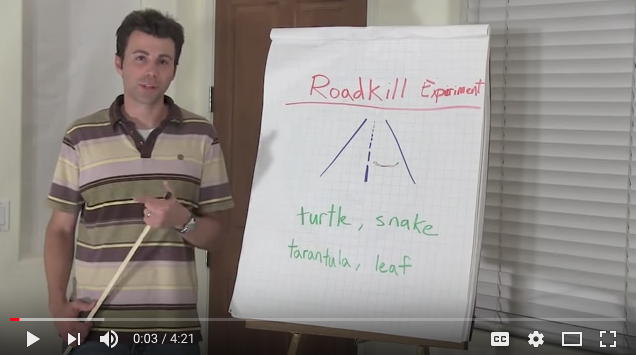 In his version of the experiment, Mark used rubber animals (turtle, snake and tarantula) as the experimental group and a leaf as his control. He chose a section of highway, methodically placed one of the animals or the leaf on the shoulder of the road, and recorded 1000 drivers' reactions. Six percent of those drivers (60/1000) went out of their way to run over the rubber animal while none of them swerved to hit the leaf.
The breakdown: the tarantula was targeted by 3.2% of drivers; the snake by 1.8%; and the turtle by 1.0%. There were also people who attempted to "rescue" the rubber animals, though the total percentage of those drivers is not clear from the video. Of the people who stopped to rescue an animal, 4% rescued the turtle and 1.7% rescued the snake.
Mark's engaging repetition of the experiment is more popular science than rigorous research, but it spotlights the very real subset of animal-vehicle collisions on roadways that are intentional. This subject has been attracting only a small amount of research over the last 20 years; however, in terms of animal populations and animal protection, the research is important.
The Rigorous Research
There was an early study conducted in Kansas (Langley, Lipps, & Theis, 1989) using black snake models, blue snake models, and a black hose. The results showed that drivers intentionally hit snakes on the road when compared to hitting rubber hoses, and that some of the drivers surveyed wanted to hit snakes more than they want to hit other types of animals.
In 2007, a group of Canadian researchers investigated the possibility for intentional motor vehicle-reptile collisions (Ashley, Kosloski, & Petrie, 2007). They placed a fake turtle, fake snake, disposable cup (representing an item often found on a road), and a biodegradable streak of grease (inconspicuous control) on a paved road.
The road was bordered by a wetland of international importance and a bay. The researchers documented driver responses as a hit, miss or rescue. Fake reptiles, cup, and control were placed in the center of the road between the painted dashed lines, a portion of the road that tires do not usually pass over. Results showed that about 2.7% drivers exposed to the reptile decoys intentionally hit them; while about 3.3% of these drivers stopped to rescue them. Men and women stopped at comparable percentages (men at 3.4% and women at 3.0%). The snake was hit 1.4 times more than the turtle, but also rescued about 1.1 times more than the turtle (Ashley, Kosloski, & Petrie, 2007).
I find it fascinating that about 3% of drivers intentionally hit the reptiles and about 3% of drivers rescued the reptiles. Is human kindness toward animals distributed like this on a bell curve? Pre-eminent psychologist Hal Herzog, in his analysis of the above roadkill experiment, reported that human attitudes toward treatment of animals are indeed distributed that way. Most people would drive right by the reptile in the road and a few drivers would decide to either kill or rescue the animal (Herzog, 2010).
In 2012, Clemson University student Nathan Weaver placed a rubber turtle in the middle of a lane on a busy road near his South Carolina college campus. He was researching ways to help box turtles safely cross the road; however, he found that some drivers seemed to intentionally hit the turtles (Moss, 2013). Seven out of 267 vehicles intentionally ran over the turtle. Interestingly, his less rigorous study resulted in 2.6% intentional hits; the same percentage as the 2007 Canadian study. Unfortunately, the study had no data on rescues.
In a 2014 Brazilian study, researchers evaluated the occurrence of intentional snake-killing on a road bordering a state park and a national park. The study models were classified differently than in previous similar studies, resulting in statistical differences in the data analysis. However, the final findings did support substantial deliberate road-killing by drivers on Brazilian roads, regardless of object type (Secco, Ratton, Castro, da Silva Lucas, & Bager, 2014).
Driver Psyche
Research on the behavioral and psychosocial aspects of deliberate wildlife-vehicle collisions is sparse. Do underlying attitudes toward certain animals predict driver behavior in a potential wildlife-vehicle collision? In a recent study looking at drivers' attitudes toward vehicle collisions with reptiles and other animals (Crawford & Andrews, 2016), surveyors found that drivers were concerned mostly with personal safety and impact to wildlife over damage to their vehicles. They also found that drivers were less distressed by hitting a snake compared to hitting a squirrel, raccoon, bird, cat, turtle, deer, dog, or bear. Snakes seem to be universally feared and detested; therefore, it would appear they have the best chance of being intentionally hit by drivers.
A 2011 Australian study asked drivers if they would intentionally run over snakes, native frogs, or (invasive) cane toads. Twenty five percent of drivers said they would intentionally run over cane toads, but field experiments showed that the model toads were hit no more frequently than the model snakes or frogs (Beckmann & Shine, 2011). If actual cane toad mortality was much lower than that predicted by the driver survey, what happened? Did drivers suddenly become more compassionate when actually faced with the decision?
Protecting Wildlife on the Road
The deleterious effects of roads on wildlife have been well-studied, but driver attitudes (fear, loathing, boredom) toward deliberate vehicle-wildlife collisions can put threatened wildlife at further risk. Mitigation efforts should be aimed at preventing small animals, such as snakes, from moving onto roads as we know that some drivers will intentionally hit any small object on the road (Secco, Ratton, Castro, da Silva Lucas, & Bager, 2014).
Using fencing to funnel wildlife toward man-made corridors for safe passage around roads can help. For instance, desert tortoise deaths were reduced by 93% after fencing and culverts were installed on a 15-mile stretch of the Mojave Desert Highway (High Country News, 2005). Since the roughly 3% of people who intentionally hit wild animals on the road may be hard to reach and persuade, we must strive to protect these animals in other ways.
References
Ashley, E. P., Kosloski, A., & Petrie, S. A. (2007). Incidence of Intentional Vehicle-Reptile Collisions. Human Dimensions of Wildlife, 137-143.
Beckmann, C., & Shine, R. (2011). Do drivers intentionally target wildlife on the roads? Austral Ecology , 629-632.
Crawford, B., & Andrews, K. (2016). Drivers' attitudes toward wildlife-vehicle collisions with reptiles and other taxa. Animal Conservation, 444-450.
Herzog, H. (2010, July 26). Animals and Us; Road Kill and The New Science of Human-Animal Relationships. Retrieved from Psychology Today: https://www.psychologytoday.com/blog/animals-and-us/201007/road-kill-and-the-new-science-human-animal-relationships
High Country News. (2005, February 7). Roadkill Statistics. Retrieved from High Country News: http://www.hcn.org/issues/291/15268
Langley, W. M., Lipps, H. W., & Theis, J. F. (1989). Responses of Kansas Motorists to Snake Models on a Rural Highway. Transactions of the Kansas Academy of Science, 43-48.
Moss, L. (2013, January 4). Some drivers go out of their way to hit turtles. Retrieved from Mother Nature Network: https://www.mnn.com/earth-matters/animals/stories/some-drivers-go-out-of-their-way-to-hit-turtles
Secco, H., Ratton, P., Castro, E., da Silva Lucas, P., & Bager, A. (2014). Intentional snake road-kill: a case study using fake snakes on a Brazilian road. Tropical Conservation Science, 561-571.