Faunalytics infographics are a fun and visual way to learn about animal issues. Our collection is always growing, so check back regularly!
Sometimes information and research results are easiest to understand when presented in a visual format. Faunalytics develops infographics that help summarize essential information for advocates, students, teachers, and anyone interested in animal topics. Check out our growing collection below.
Faunalytics' Fundamentals are a collection of topic overviews and resources that provide the latest and best data for a variety of important animal issues and topics. Below, you'll find links to our Fundamentals on farmed animals, research animals, companion animals, and wildlife, as well as sample charts from each. 
The first in our new series of visual "Fundamentals," our focus on Farmed Animals contains information about animal ethology, consumer opinions, scale of the industry, environmental impacts, and more.
The second in our series of Fundamentals, with a collection of infographics describing the animals most commonly used in research and dissection, the species excluded from the Animal Welfare Act, attitudes, breeding and transport, and research alternatives.
The third in our series of Fundamentals, with a collection of infographics about the state of companion animal issues in the United States and beyond. This resource covers ethology, breeding, free-roaming animals, sheltering, and much more.
Our fourth installment looks at the wide world of wildlife, and focuses on the issues where humans have the most negative — and potential for positive — impact. If you want to know more about endangered species, the exotic animal trade, or how zoos affect animals, look no further!
Occasionally, in addition to the regular charts and graphs, our team will create more comprehensive infographics to accompany our original studies. These give you a quick overview of the most important bits of data, encapsulated in an easy-to-share format. 
In recent years, corporate lobbying efforts have played an increasing role in animal advocacy, and have been successful in bringing about dozens of commitments to use or provide cage-free eggs and enact other welfare improvements. These changes have been attributed by the companies themselves to pressure from animal advocacy groups. We looked at how the general public views these changes.
This comprehensive infographic looks at the results of our study of BRIC nations – Brazil, Russia, India, and China – and their attitudes towards farmed animals. The BRIC countries are among those that kill the most animals for food. While they currently have relatively low per capita meat consumption, they are rapidly increasing their consumption of animal products. The overarching goal of the study was to examine country differences in current meat consumption, recent changes in meat consumption, support for policies to improve farmed animal welfare, attitudes and perceived norms about the importance of farmed animal welfare, and beliefs about the impact of consuming meat.
While early research on consumers' reactions to clean meat has been mixed, it has generally focused on understanding "baseline" attitudes toward clean meat — asking people who know little about it whether they'd be willing to eat it. This study put clean meat in context for people, by describing its positive benefits and the downsides of conventional meat production. With that positive context, we saw a much more favorable level of acceptance. Successful aspects of the messages used in this study can be used by advocates, lobbyists, and others to promote clean meat. The ultimate goal is to reduce reliance on animal farming by encouraging as many people as possible to switch to clean meat once it becomes available. These two comprehensive infographics looked at results from the study, and more.
This infographic highlights the key findings from Faunalytics' Study of Current and Former Vegetarians and Vegans. It describes the number of current and former vegetarians and vegans in the U.S., offers a profile of former vegetarians/vegans, and touches on individuals' motivations for adhering to the diet. It also highlights some potential recommendations for veg advocates to consider.
This graphic, illustrated by Faunalytics board president Caryn Ginsberg, walks through a series of evidence-based methods to help encourage people to consider, try, and then (importantly) maintain a plant-based diet.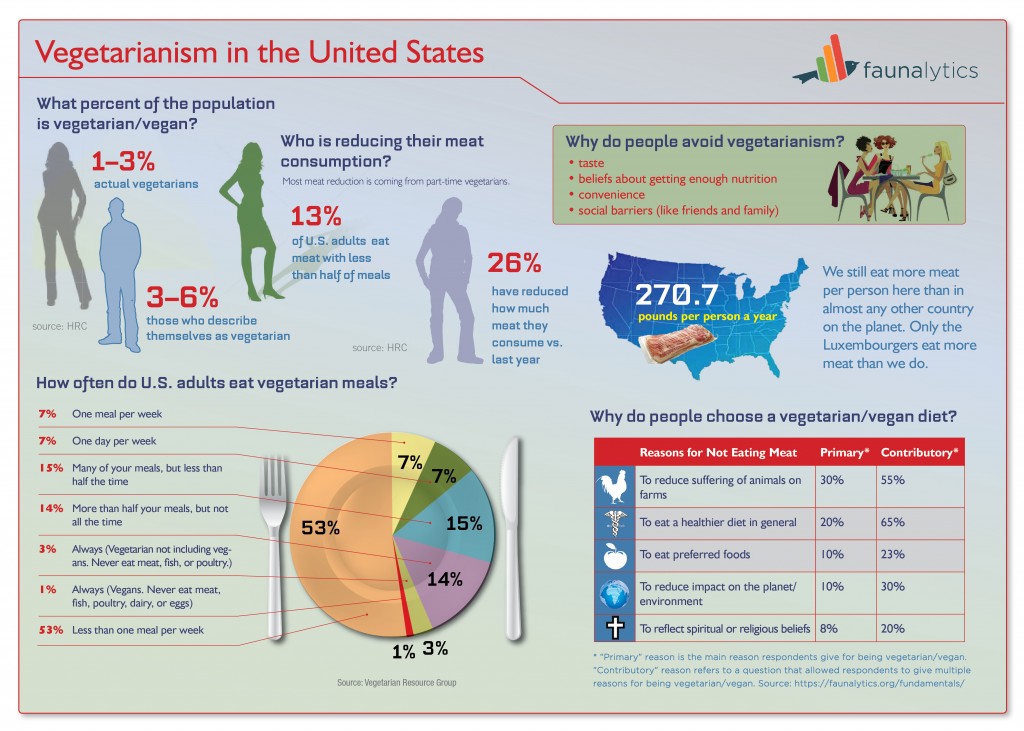 How many vegans, vegetarians, and semi-vegetarians are there in the U.S.? How many vegetarian meals do they eat? And why do they choose to limit their consumption of meat and other animal products or avoid them entirely? If you're interested in these questions, Faunalytics has the answers in our infographic on vegetarianism in the U.S.