How Animals Are Affected By Habitat Fragmentation
The effects of habitat fragmentation on wildlife are far from clear. Species, along with the type, cause, and speed of fragmentation all play a role.
Photo by Jim Streeter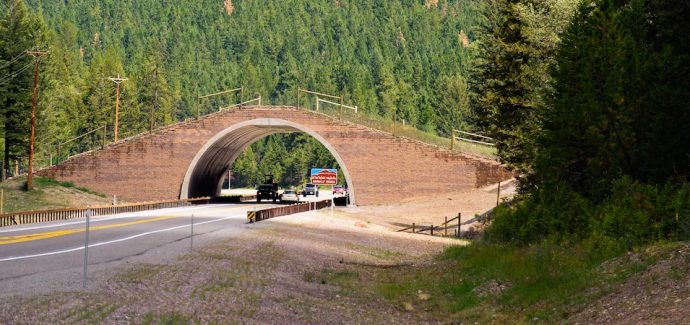 Most of us live in a constantly changing environment. Wild animals are no exception. These changes can occur rapidly, such as from a forest fire, or slowly, such as through planetary warming. Some changes are part of natural evolution (naturogenic), and some are human-caused (anthropogenic). Changes can affect animals directly, such as through a shift in food availability, or indirectly, such as when evolved traits no longer fit the new environment.
This literature review examined one type of environmental change, habitat fragmentation. This refers to the division of a piece of contiguous habitat into two or more smaller, isolated pieces. Welfare effects of habitat fragmentation fall into three categories: (1) direct effects, such as injury, death, or increased protection; (2) population-level effects; and (3) evolutionary effects, such as changes to physical or behavioral (phenotypic) traits. Direct effects on welfare are easier to evaluate than indirect effects, which may occur over long periods and can get lost in the complexity of natural ecosystem variability. Yet it is likely that these indirect effects are more significant for welfare because they are incremental and can affect entire animal populations.
Exactly how habitat change affects wildlife depends on what the habitat looks like once it's lost its cohesion. The new habitat may have many smaller patches with the matrix, or areas between patches, being habitable or hostile. Patch size is smaller than it was before. The broken-up areas now have more edges, which can be positive or negative (known as edge effects), depending on the species. The new patches are isolated, with feet, yards, or miles between them. This isolation most affects animals for whom the new patches don't meet their spatial needs. For instance, a new highway through bear habitat can result in death and injuries as the bears try to move across the road in search of food, mates, or denning locations. In contrast, a raptor will simply fly across the pavement.
Human activities can lead to fragmentation in a variety of ways. Road construction, urbanization of previously wild spaces, placing new land under tillage or grazing and forest management are all ways that habitats can be fragmented. Natural processes include changes in river courses, volcanoes, wildfires, floods, and changes to marine ecosystems. Naturogenic changes may cause less harm because they often occur more slowly, giving animals time to adapt or disperse. But this is not always the case. Indeed, anthropogenic climate change is taking decades, while wildfires can dramatically alter landscapes in hours or days.
Given all these factors, how exactly does habitat fragmentation impact animal welfare?
To begin with, the effects are uneven and very much depend on the species. The authors conclude that welfare effects depend on five different factors.
How the fragmentation mechanism affects direct welfare
Also known as first order effects, these include how individual animals or injured, killed, or protected in the fragmented environment. Wildfires kill animals who cannot flee or hide. Flooding can change a river's course, destroying some habitats while creating others. Smaller, less mobile animals such as invertebrates, rodents, and reptiles may suffer more from these events. Patches that were already small may be further compromised with loss of nesting areas and food.
Population changes associated with fragmentation
These second-order effects include how the population size changes, including predators or prey of an affected species. Patch size, characteristics of the matrix, and resources remaining in the new, smaller patch interact with the traits of a given species to define the population effects. But habitat corridors or steppingstones can reduce the effects of patch isolation and allow animals to move successfully between fragments.
Traits evolved because of fragmentation that affect welfare
When a habitat fragments, physical or behavioral traits that worked before may no longer be useful. The ability of animals to disperse, or move to different habitat patches, is the most critical trait to improve survival for most species. However, larger animals need larger ranges to thrive, so fragmentation creates more adverse outcomes for these species.
Whether the affected population is, on balance, better or worse off because of the fragmentation
Scientists quantify the actual effects of fragmentation on the welfare of a population in different ways. Whether the change in welfare is determined on an average (per-animal) basis or as a total for the population can lead to opposite conclusions about the impact of habitat fragmentation.
Life-history traits and how they related to individual welfare
Physical and behavioral traits affect evolutionary success in any environment. But sudden changes often result in increased mortality. Such changes also tend to select for animals that produce higher numbers of offspring, less parental investment, and faster development. Unfortunately, this "fast living" life history strategy reduces animal welfare compared with the "slow living" alternative.
This literature review highlights the ongoing uncertainties among wildlife biologists and ecologists regarding the impacts of habitat fragmentation. It also shows how what's good for one species may be devastating for another. Advocates can use this article to help balance competing interests as we work to make lives better for all wildlife.